How Nerat-Dagwi Nyam used the Boo of the Booless Musicale to create awareness of PTSD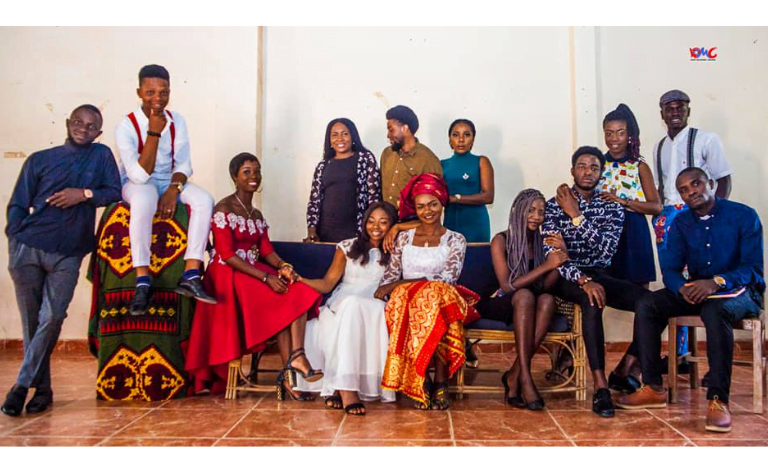 PTSD is a serious problem with adverse effects and implications for those suffering from it. PTSD is short for Post Traumatic Stress Disorder. Posttraumatic stress disorder (PTSD) is a psychiatric disorder that may occur in people who have experienced or witnessed a traumatic event such as a natural disaster, a serious accident, a terrorist act, war/combat, or rape or who have been threatened with death, sexual violence or serious injury. Unfortunately, as with other mental disorders and conditions, there is very little or no awareness of PTSD in Nigeria. Nerat-Dagwi Nyam, a Psychology student and Mental Health Advocate, identified this problem and took a creative step to address it with the Boo of the Booless Musicale. I had a chat with Nerat, and here's how it went.
Hey Nerat! Tell us about yourself.
I'm Nerat-Dagwi Nyam, the second child and first girl of five children. Many of my friends call me Mushu, a high school nickname that stuck. I'm a student of General and Applied Psychology at the University of Jos, and I'm a volunteer for social impact.
I'm Still mind-blown about the Boo of the Booless Musicale. When did you first have the idea for the Boo of the Booless Musicale? And what sparked the idea?
The inspiration for the Musicale "Boo of the Booless". Firstly, I'm a huge fan of Chike's Music, and after listening to the album over and over, I figured the songs are linked in some way, and I got a story from it. A typical love story, but beyond entertainment, I believe that as a student of Psychology, I saw the story differently. I figured it was possible for the story to explain mental health.
What was your intended outcome?
When we started preparing for the musicale, we hoped that at the end of the show, the audience would understand the nature of a soldier's job and know that soldiers could also have a happily ever after.
How was the process, and did you achieve your goals?
The process was tough but refining. We did achieve our goal because, beyond the audience being entertained, we taught them about PTSD.
You centred the play on PTSD. How serious of a problem is PTSD?
PTSD is short for Post Traumatic Stress Disorder. A mental illness can happen to a person after experiencing a traumatic event. PTSD makes one feel anxious and uneasy, have sleeping disturbances and generally affects the person's daily functioning. It is a serious issue because it can happen to anybody and, if not properly treated, will have long-lasting and unpleasant effects. It is serious because some people are unaware that the nature of the soldier's job puts them at a greater risk of having PTSD, and they are barely able to manage or treat it.
What is the state of PTSD recognition In Nigeria, and why do you think it is so?
Good question! I can't exactly say the state of PTSD recognition in Nigeria because there's no data to back it up. PTSD is kind of like part of a whole, and that whole is Mental Health, which is general. According to the Mental Health in Nigeria Survey report of 2020, it is evident, and sadly so, that the attention given to mental health is dissatisfactory. The level of awareness is not enough, and because of this, misconceptions about it have gained ground and keep advancing. Several organizations have taken it upon themselves to create awareness for mental health, not just illnesses, and have been actively involved in formulating the Mental health bill.
What can we all do to advance PTSD and general mental health awareness in Nigeria?
As I said earlier, a good number of organisations are committed to creating awareness. It's up to individuals to join this moving train. When we know what mental health is, we can all be involved in advancing it.
What can the Government do to aid in PTSD and Mental Health Awareness and Care?
The government should be more intentional in including Mental Health in Primary Healthcare Schemes and Programmes. There should be massive education and awareness creation for mental health at institutional and community levels. The Government should also partner with private organizations to create more awareness and attend more to mental health issues.
What future plans and ideas might you have?
Well, the main aim is to use entertainment as a tool to promote awareness of mental health, and this can take the form of any entertainment as long as the message is clearly passed across.
This is how Nerat-Dagwi Nyam used the wonderful Boo of the Booless Musicale to raise awareness for mental health. Mental health matters become more important by the day, and I think we should all do our part to raise awareness. It might be crazy and creative as the Boo of The Booless Musicale, and it can be as simple as talking to a friend about mental health. Talk about Mental Health and protect your mental health.
You can check out other heroes like Nerat-Dagwi Nyam here.